Jesus said, "Let the little children come to me..."

Connect with us on YouTube! We post weekly lessons every Sunday morning for our Canvas Kids!

Connect with us on Facebook! We have a private Canvas Kids page for all of our wonderful parents!
"Canvas Kids" is a high energy program for children that includes positive worship, relevant lessons with the point being reinforced by drama and music, age specific centers, and so much more. The children are given snacks on Sunday morning during their classes. (Please make us aware of any food allergies at check-in) Age groups are divided into babies - crawlers, toddlers - pre-k, and kindergarten - 5th grade. A new lesson curriculum is offered every 9 - 12 weeks with changing themes to engage the imagination of each and every child.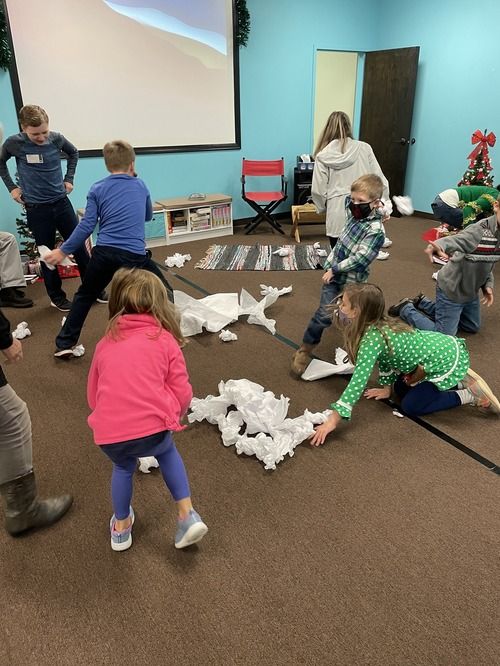 Meet our Children's Director, Amy Arnold
In addition to being a daughter of the King, I am a wife to the most amazing man on the planet, Brad, we have been married for 27 years. I am mother to 7 phenomenal kids, and Pippy (Grandma) to 2 perfect granddaughters. My family is my greatest ministry and joy in this world!

One of my earliest childhood memories is being a toddler, held in the arms of a Sunday School teacher as she sang of Jesus' love for me. My growing up years continued to be consistently marked by the pursuing love of God through Sunday School teachers and youth leaders. Being nurtured in His faithful love and the truth of God's Word laid a solid foundation of faith in my life. It has been that foundation that rooted and established my identity in Christ and ignited a desire to become more like Him. From these personal experiences, God has developed a passion for nurturing children and families in their faith journeys. I firmly believe that when we understand who God is we can know who we are and live out the purposes He has for each one of us.
"But as for you, continue in what you have learned and firmly believed. You know those who taught you, and you know that from childhood you have known the sacred Scriptures, which are able to give you wisdom for salvation through faith in Christ Jesus. All Scripture is inspired by God and is profitable for teaching, for rebuking, for correcting, for training in righteousness, so that the man of God may be complete, equipped for every good work." – 2 Timothy 3:14-17
We'd love to hear from you. Fill out the form below to get started.